Danube Bend, Hungary 2007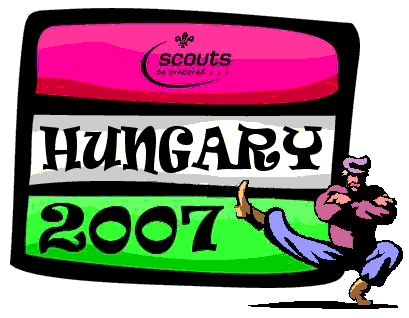 Following on from our very successful trip to Switzerland in 2005, for 2007, the centenary of Scouting, we went for a complete change of culture when we decided to visit Hungary. We once again joined with 1st Silver End Scouts for the 12 day trip to the Danube Bend, Hungary from the 15th to 26th August 2007.
After an epic coach journey of 28 hours, which included a stop in Belgium to replace the coach batteries!, we enjoyed a week of unusually warm central European temperatures, the average daily temperatures were around 32ºC to 34ºC so high factor sun cream and plenty of fluids were the order of the day. During the week we all enjoyed a packed programme which included: swimming in the Danube and the local naturally heated spa pool; tobogganning; visiting some of the historic towns and monuments on the Danube Bend; canoeing down the Danube; sampling authentic Hungarian cuisine; a day at the Puzsta, a traditional Hungarian horse show; laser fighting; and a medieval tournament where the Scouts got to have a go with some of the weapons.
Everyone will have brought back their own special memories from the trip. For some it might be the exhausting climb to the citadel high above Visegrád which gave a splendid view over the Danube Bend. For others it might be the sense of achievement after paddling the 16 miles down the Danube in a canadian canoe.
If you want to find out a bit more of what we all got up to, or to simply bring back some of your own memories, please take time to look at the travelogue and the photographs to see what we all got up to. There is also a little bit of information about some of the places we visited in the Danube Bend area.